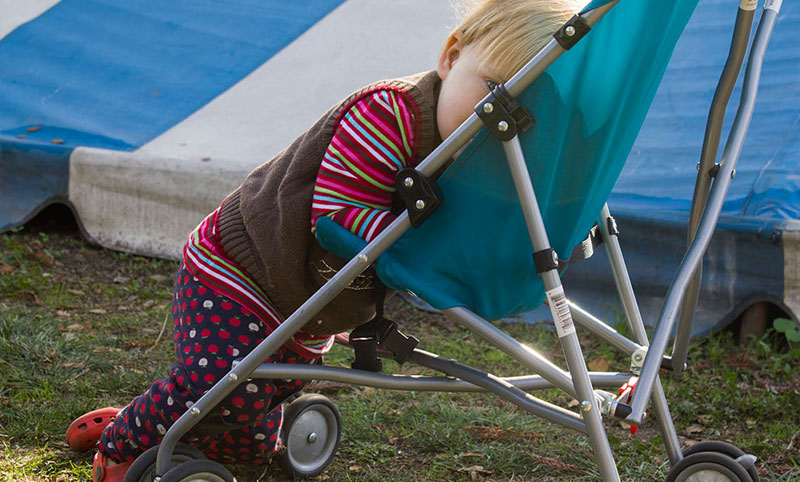 Lightweight & Umbrella Strollers
A Featherweight Backup
Light as a feather and easy to fold, lightweight strollers generally offer the most basic features and are made to store easily in an overhead bin, trunk, or closet. While these lightweight models are unbeatable for quick jaunts to the store, many parents find that they aren't as comfortable for children on longer stints as their midsize or full-size counterparts. Still, many parents feel a lightweight stroller is great to have when a buggy, pram, or travel system is too unwieldy (while traveling, for example).
Ultra-lightweight models, dubbed "umbrella" because of their hooked handles, are best when used as a second stroller. If you are looking for a lightweight, affordable stroller that's easy to take along for the ride (or toss in the trunk of your car), this would be the perfect choice. Do keep in mind, however, that umbrella strollers are not recommended for use with newborns or infants who require a fully reclining seat and head and neck support. Featuring aluminum frames and weighing as little as 5 pounds, most umbrella models offer a safety device that prevents accidental closing. Umbrella strollers are available in a wide range of prices according to the features offered, and will last you well into the early preschool years (3 to 4).
Features may include: Aluminum frames, semi-reclining seat (some fully recline), canopy, one-step fold, locking swivel wheels, and super lightweight.
Lightweight Umbrella Stroller Age range: If the lightweight stroller reclines fully, it is safe for a newborn; however, most umbrella strollers do not fully recline or have suspension features, so to make sure your baby is in the appropriate age range for these strollers, it is best to wait until baby is at least 4 to 6 months old.
Umbrella Strollers We Love
Amazon Auto Links: No products found.