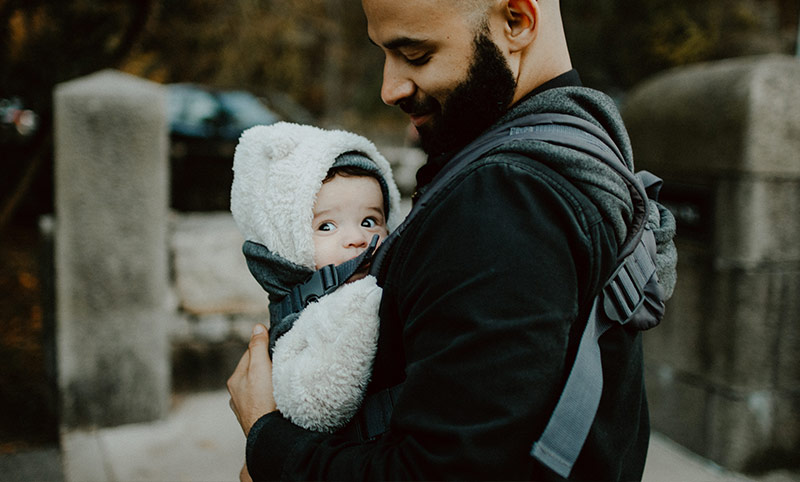 The Top Baby Carriers of 2023
Baby carrying parents are very loyal to their brand of carriers for good reasons. Whether based on baby back support, parent comfort, or baby preference, a good carrier allows you to keep your little one snuggly against your body while keeping both of your hands free.
Carriers, Slings, & Wraps of 2023
When your baby wants to be held all day, you are limited in what you can get done. A carrier allows you to hold your baby close while caring for their siblings or confidently wielding a large cup of coffee.
While many hybrids exist out there, most carriers fall into three main categories:
Wraps – Wraps are long pieces of fabric that are wrapped in various patterns around the wearer's body, providing a comfy pouch for your baby to be cradled in. As your newborn grows into an infant and beyond, various wrapping styles accommodate their growing size and changing needs.

The key benefit of wraps is that they are a soft, flexible fabric, allowing your baby to get cozy in a stretch fabric that offers them all-around support.

Slings – These long pieces of fabric are meant to sling from the wearer's shoulder, across the chest, over the hip, and return up the wearer's back. Bound together with D- rings or another metal ring, the adjustable length allows the baby to lay as high as the wearer's chest. As they grow, the fabric can be loosened to allow for the infant or toddler to sit comfortably on the wearer's hip.

Usually made of cotton or canvas, these are easier to put on than a wrap while offering the same flexible support

Carriers – With adjustable straps and pullies, many of today's most popular carriers are designed for long-term wear and can accommodate newborns through toddlers. Made of mesh, cotton, or other durable fabrics, today's carriers are designed to ergonomically support a growing child while countering the strains usually put on the wearer's body by wearing a baby.
Top Carriers of 2023
Recommended Weight: 8-35 lbs.
Positions: Front inward-facing, front-outward facing, as a sling
Why we like it
The Baby K'tan is for those who want to try a sling or wrap-style carrier without the process of wrapping. Coming in several sizes, this is the softest and most flexible of the store-bought carriers. Although the fabric stretches to accommodate your child's body, it quickly returns to normal after a machine wash.
Why it's the top
This super flexible fabric is a favorite amongst newborns who love the stretchy and ultra-cozy feel.
Recommended Weight: 8-32lbs.
Positions: Front inward-facing, front-outward facing, rear inward-facing
Why we like it
The Infantino Flip is considerate of body types, offering narrow and wide settings to accommodate a baby's growing body. This ergonomically designed carrier comes with lumbar support and an extra bib to keep your carrier in good shape month after month.
Why it's the top
At an unbeatable price, this carrier comes with many of the features of pricier carriers without the expense.
Recommended Weight: 7-45 lbs.
Positions: Front inward-facing, front-outward facing, back inward-facing
A long-time leader in baby carriers, Ergo released the Omni 360 to support inward and outward-facing babies while focusing on the hip support a baby's body requires. Long known for considering the needs of both the baby and wearer, this carrier has thick padded shoulders and a wide strap around that goes along the wearer's hip. This relieves pressure on the wearer's back while keeping baby snuggly supported.
Why it's the top
With a tuck away SPF 50+ hood and cotton or mesh options, this carrier focuses on first and foremost on the baby's hips. As a bonus, moms rave how they can discreetly breastfeed in this carrier while on a stroll.
Recommended Weight: 7.5-33 lbs.
Positions: Front inward-facing, front-outward facing, back inward-facing
Why we like it
The ultra-durable, sleekly designed Baby Carrier One from Baby Bjorn has a tactical look that is a favorite amongst dads. Wide shoulder, hip, and mid straps allow for endless adjustment options and hours of wearer comfort. With quick easy-on, easy-off options, this carrier keeps your baby supported from newborn through toddler.
Why it's the top
Durable fabrics and countless adjustment options keep both the baby and wearer comfortable all day.
Recommended Weight: 7-45 lbs.
Positions: Front inward-facing, front outward-facing, back inward-facing
Why we like it
The Tula Explore was designed with multiple widths and ergonomic positions in mind, these carriers also take wearer style into account. Limited edition fabrics allow parents to accessorize their carrier with a personal touch, making a statement amongst a sea of gray and black carriers.
Why it's the top
Different designs also come in different fabrics allowing you to pick the look, comfort, and weight that is best for you.
Categories: