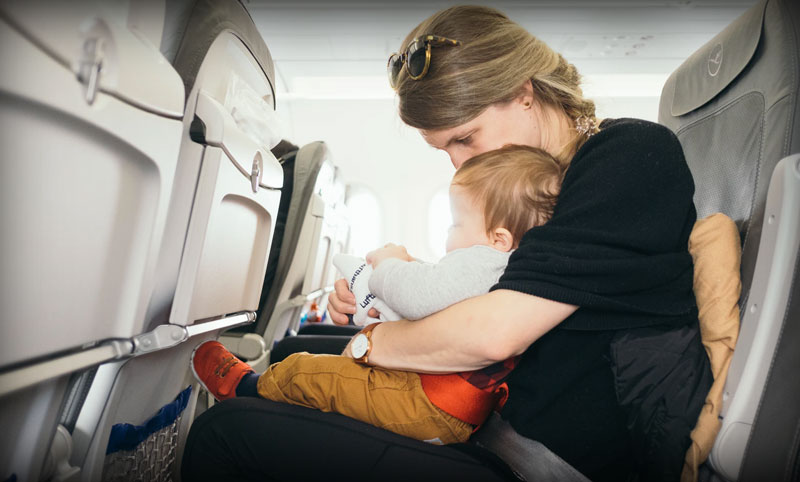 6 Tips to Help you Survive (and even enjoy) Flying with Baby
Your bags are packed, you're ready to go. The vacation which you have looked forward to for months is only a flight away. As your vacation approaches you may ask yourself, how will you manage the journey with a baby? Flying with a baby is certainly a different and more challenging experience than travelling alone.
Here are six essential tips to help reduce the stress involved when taking a baby on board!
Be prepared: Before you get on the plane make a list of items that you must pack inside your 'baby bag', this should include: Diapers, better too many than too few, wipes, diaper cream, plastic bags for dirty diapers and clothes, plus a changing mat. If your baby uses a pacifier make sure you have at least two more than you usually carry with you. The worst thing for any parent with a distressed baby is not having a pacifier which can often soothe the baby and by default soothe the parents too! You'll also need to make sure that if your baby is formula fed that you have plenty of formula, clean bottles and prepared water for the journey. Any baby on solids should also have his favorite baby food, snack and feeding utensils for the flight. A hungry baby will not be very happy and most likely scream if there's nothing to eat, sending your stress level soaring!
A systemized bag, a real game changer: Have all the essential items for the flight well organized! Your journey will be much more pleasant if you can easily reach into your bag and pull out whatever you need. Packing blocks or a well designed bag with plenty of compartments are really helpful for this. Make sure the following are easy to grab when needed. A baby changing compartment or an identifiable mini-bag containing all items for keeping your baby's bottom clean and healthy. Also include at least two changes of clothes for the inevitable accidents! More if it's a long-haul flight. A food and drink compartment/mini-bag, include everything you usually use to feed your baby. Breastfeeding mothers that like to use a cover for feeding should pack one here. A toy compartment/mini bag with your baby's favorite toys to keep your baby entertained. Pacifier bag/container – it is so much easier to find a pacifier if it's not buried in your hand luggage.
Choose your seat wisely: Choosing your seat wisely and strategically is a must. The aisle seat, whilst not offering a direct view enables you to move out of your place more easily than the window seat, this can be really helpful when you have a restless baby. Paying for extra legroom is worth considering as you will be sharing your seat on the plane with your baby (just note that you will most likely not be allowed to sit in an exit row with a baby or toddler). Extra space can help make the journey more comfortable. Some airlines do provide a crib (bassinet), usually for babies weighing up to 12 – 14 kilos. Each airline has its own policy and it's worth checking about the crib before you book your flight. Even with extra legroom and a crib, you may still end up walking up and down the aisle trying to settle your baby. Think of it as a mini work out, rather than an endurance test as you're pacing up and down the airplane for the one hundredth time…
Have a bottle or breast ready for landing and take off: It is well known that sucking alleviates discomfort caused by pressure changes and helps comfort babies in the most stressful moments. For this reason it may well be worth waiting until take off and landing to give your baby an extra special feed to help him or her relax on the journey.
Bring a baby carrier with you: There are so many different types of baby carriers. Most are quite compact and easy to bring on the plane with you. They provide closeness and comfort to a baby, especially if he or she is familiar with them. Bringing the baby carrier with you for the flight, gives you an alternative way to hold and soothe your baby when needed. You'll also be hands-free and the strain of carrying the weight of your child should be reduced. If your stroller hasn't come inside the plane with you, you'll be able to use the baby carrier until you are reunited with it and the rest of your luggage after the flight.
Pack some chocolate: Yes, you read it right! Chocolate, or any other treat that you love. Not for your baby, but for you! Take a little something to look forward to on the plane. If the flight is going well you can simply enjoy it… and if it's not, you and the people around you will benefit from a little pick me up to reduce the stress of the journey!
Flying with a baby is unpredictable, it's impossible to know in advance if your baby will smile, sleep or scream the whole journey. As long as you understand this in advance and are prepared for the airplane, you will manage and even survive the flight!
Enjoy your well-earned vacation!