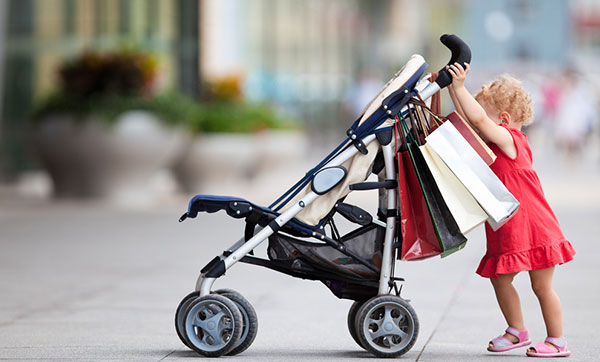 Choosing the Right Umbrella Stroller
Umbrella strollers have come a long way from the flimsy constructed ones of years back. Many umbrella strollers are more of a hybrid, with the enjoyment of many features that a standard stroller possesses. The newer models not only have the convenience of transportation on wheels for your kids but also increased storage capacity, lighter weights and greater construction and stability. This is not a replacement for the larger traditional stroller, but a well-loved companion that will make short trips or travel much more enjoyable.
Considerations to Give
When purchasing an umbrella stroller there are a few questions to consider to help you narrow it down to the perfect buy. Ask yourself how much are you willing to pay, how often you will use it, do you want a shaded cover, reclining features, drink holder and lots of storage, and how easy is it to set up and collapse? It is important to note if you are using it for an infant, only certain models are recommended as they require a seat which can fully lay back and provides the necessary head support. Let's take a closer look at some of these considerations.
Safety
Above all considerations, safety should be first and foremost. It may certainly give you peace of mind if your product has the JPMA certification (Juvenile Products Manufacturers Association). If it does not have the JPMA certification, your stroller still has requirements to be met and may be recalled if there are any product defects.
Please note the following safety precautions before making your purchase:
Ensure if your baby is lying flat in an umbrella stroller, it does not tip backwards from the weight
Look for a stroller with a wide base that will not allow tipping to the sides if your child should lean over
Keep an eye for any large openings that may allow your child to slip through
Be aware of any areas a child might get fingers caught in the mechanics
Be certain to buy the appropriate stroller for the weight and height of your child to reduce risk of injury.
A 5-Point harness system is the best for securing your little one
The Budget
Umbrella strollers can be purchased from $30 to over $300. That being said, you don't have to pay $300 for a great stroller. Have your budget in mind before you go shopping and stick to it.
Usage & Durability
Are you someone who is out of the house a lot with your little one and love the convenience of an umbrella stroller? Consider moving away from the lowest priced strollers. You definitely want to invest a little more for better mechanical features; a sound frame, quality wheels, lightweight, material that can be easily cleaned and has a high durability rating to withstand the numerous opening and closings.
If your stroller is being utilized more for travel, look for features that will make that journey easier; strollers that have ease of manoeuvring, shock absorbing suspension when traveling on various terrains, shoulder strap for ease of carrying when not in use and a compact fold for overhead storage on planes is a wonderful convenience.
Most umbrella strollers are made of aluminium, a great light weight material. Although there are some plastic options available in strollers, they do not have the durability of an aluminium frame and might end up being more of a headache as parts may break more easily and need replacement.
The Extras
The extras can be essential for some moms and dads; the drink holder, the shaded cover, the deep storage, removable seating for easy cleanup and lightweight. Generally speaking umbrella strollers are lightweight so if your umbrella stroller is over 15-16lbs, you may want to simply use your full size stroller.
Extras that may not come with your stroller but might be important to you may include; a rain protector for the stroller, stroller organizer to attach to the handles for extra storage, travel bag to protect your stroller while traveling and even connectors to join two strollers together.
With all the options, it may feel a little overwhelming to make a choice. Be certain to make a list of your must-haves and work within your budget and research well before you head out shopping.
Umbrella Strollers We Love
Amazon Auto Links: No products found.