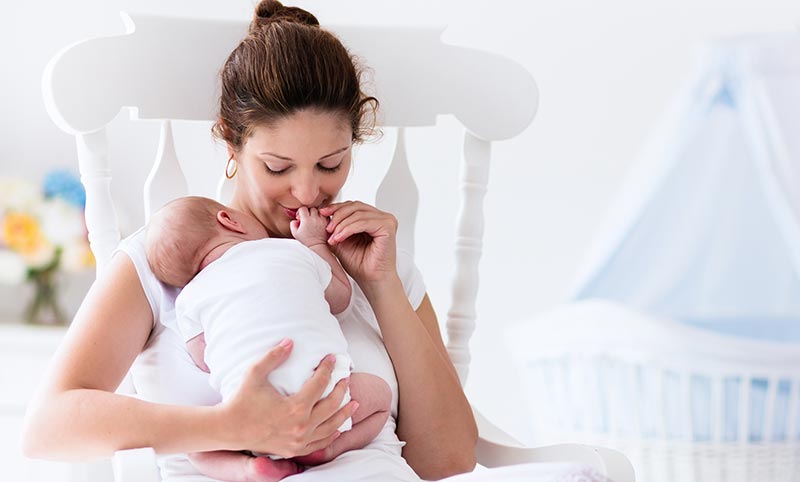 Choosing the Perfect Glider or Rocking Chair
It is very easy to lose focus when you are trying to set up a nursery for your child before their arrival. New parents, especially first time parents, may start from the basics but very soon realize that they have filled up the nursery with everything they thought their child would like, rather than need. Nurseries may suddenly look filled with pink stuffed toys or blue balloons, the little cupboard already overflowing with adorable – albeit impractical – outfits, but they have forgotten to focus on the important pieces. For example, a baby glider or a rocking chair.
Yes, a practical and efficient rocking chair – or a baby glider – is one of the most important features of a well-planned nursery, as you will begin to understand within days of bringing your child home from the hospital.
So why do you need a rocking chair in the nursery? Rest assured, your newborn baby will be waking up every few hours during the night for the first couple of months. Even if you are blessed with the best-behaved child in the universe, you – or your partner – will be heading into the nursery at least a few times in the night to feed your baby, or to soothe it to sleep. After a long and exhausting day, a good, comfortable rocking chair or baby glider in the nursery would seem like the most brilliant idea in the world when you need to settle down with your baby.
Did that seem like a sensible reason to you? So, you need to think of investing in a good rocking chair before you blow your budget on matching curtains for the nursery!
Baby Gliders vs. Rocking Chairs
When it comes time to choose, you have two choices: a baby glider, or a rocking chair. Here's the difference between the two; A baby glider is like an armchair that will make you and your baby feel like you are floating. It's comfortable, soft and usually full of cushions. It also gives you the option of keeping your feet up in a matching stool in front of it. A traditional rocking chair, on the other hand, allows you to rock your baby up and down. Most babies find the rocking sensation soothing and sleep-inducing; despite being around for centuries, rocking chairs are still widely popular for new parents.
Features
You will be using this particular piece of furniture quite heavily and regularly for a long time, so there are some features that you should be mindful of, whether you are buying a glider or a rocker.
Durability
Whether you choose a rocking chair, or a glider, make sure it has a strong and well-built frame. As we mentioned before, you will be using this chair for years, even after your child has grown up. You need to make sure you are investing in a chair that lasts for years down the road. Most rockers and gliders have wooden frames underneath all the finery, and it is important that the wood that has been used is of good quality.
Armrests
Look for chairs with wide armrests. You will be carrying your baby on your arms when you sit down to breastfeed or put them to sleep, and therefore, you will need all the space you can get to rest your arms. The armrests should be spacious and soft, with enough room for your arm and the baby's head to relax.
Removable Covers
Make sure that the chair has a removable or washable cover. Your baby is bound to have all sorts of adventures on this chair, and so it is bound to get dirty. From spit-ups, throw-ups, drool, accidents with the diaper, and more, this chair will see a lot. You might need to wash the seats and the cushions at least twice every month. Making sure the covers are removable or washable will be a great help.
Locking Mechanisms
It is better if your chair has a good locking mechanism, so that you can control whether or not it reclines, or how much it reclines. With baby gliders, a good lock ensures that you will be able to stand up with the baby in your arms without having to worry about losing balance.
Ottoman
Make sure you get a matching ottoman with your rocking chair or glider. An ottoman will do wonders for your aching feet when you spend long hours at night in the nursery feeding or soothing your child.
When it comes to gliders and rockers, there are a lot of details that you need to look through, rather than just brand or style. Hopefully, this article will prove to be helpful to you in setting up the nursery.
Chairs We Love
Amazon Auto Links: No products found.