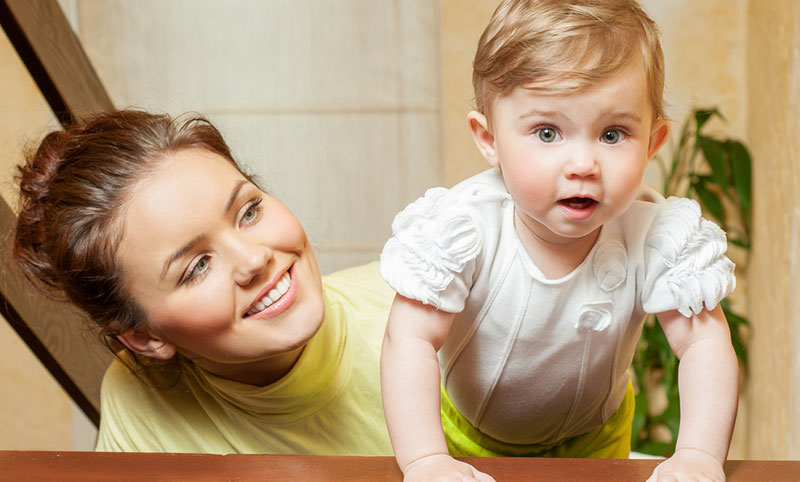 Child Proofing with Safety Gates
When your baby starts to crawl, explore, or use a walker, it's time to install safety gates wherever potential hazards may be present around your home. At the top of stairs, at the bottom of stairs, and in between rooms, safety gates act as barricades that communicate which areas are off-limits for your little scooter. When purchasing safety gates for your home, there are several things to keep in mind: types of gates, features, and safety.
Types of Safety Gates
Pressure-Mounted Safety Gates – The two sliding panels of a pressure-mounted safety gate adjust to the dimensions of the doorway and a locking mechanism supplies the force to wedge the gate in place. These safety gates are typically used between rooms, but should not be used at the top or bottom of stairs.
Wall-Mounted Safety Gates – This type of safety gate is mounted with screws directly into the wall and therefore has the ability to withstand more than pressure-mounted styles. Some styles have a special swing-stop mechanism to prevent the gate from swinging out over the stairs. Wall-mounted safety gates can be used at the top and bottom of stairs and at window openings.
Yard Gates – Yard gates have expandable panels to form a fairly large area for your child to play in and are perfect for creating an exclusive area for your toddler outdoors. Typically, every other panel of a yard gate opens for easy access. We recommend the Superyard XT from North States Industries, it even comes with a handy portable carrying strap.
Features To Look For
One-hand release allows you to open and lock a gate with one hand. This is great for times when you are carrying a baby (and that is sure to be often).
Dual-direction swinging allows you to open the safety gate in either direction.
Expandable safety gates can fit doorways and openings of different sizes.
See-through safety gates allow you full vision of baby through widely spaced bars or mesh for better supervision.
Installation kits help in mounting safety gates on various surfaces.
Extension kits allow gates to expand to fit openings larger than standard-size doorways and windows.
Safety gates come in various materials that complement any d�cor–wooden, plastic, plastic-coated steel, and soft mesh.
Safety Tips
Do not install pressure-mounted safety gates at the top of stairways, as they cannot withstand as much pressure as wall-mounted safety gates.
Choose a safety gate with a straight top edge and rigid bars or a mesh screen, or an accordion-style gate with small (less than 1.5 inches) V-shaped and/or diamond-shaped openings.
Discontinue using safety gates when your child is 36 inches tall or is 2 years old. A safety gate should never be less than three quarters of your child's height, since they can probably climb a safety gate that is not high enough.
When installing safety gates with expanding pressure bars, install the bar side away from baby, since pressure bars can be used by children as toeholds to climb over a gate.
Follow installation instructions and anchor the safety gate firmly in the doorway or stairway.
Always close the safety gate behind you when leaving the room and never leave your child unsupervised.
Do not use older models of safety gates that are not certified for safety. They are more prone to be hazardous.
Our Favorite Safety Gates
Amazon Auto Links: No products found.