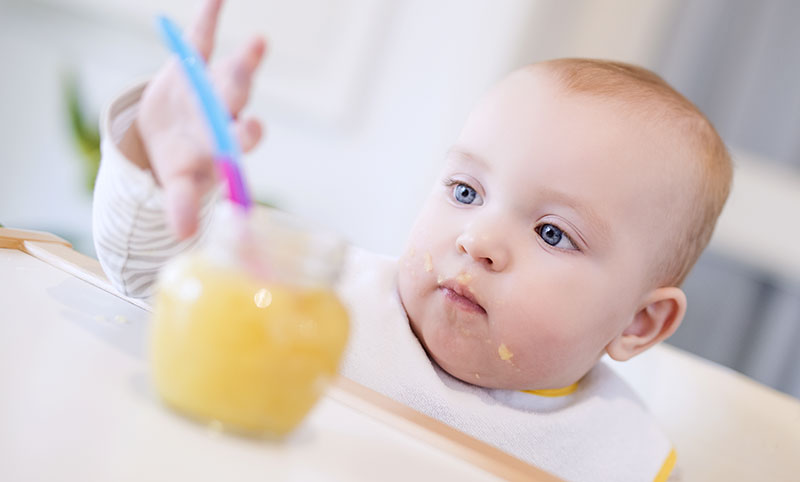 Cuisinart Baby Food Maker Review
Once your baby starts eating solids, you will probably want to introduce them to many different foods. And when it comes to solid foods, fresher means better.
But making fresh baby food means chopping, steaming, pureeing – a lot of work.
Luckily there are a few baby food makers in the market that can make the job much easier and faster. And as the parent of a baby or toddler, you know that between dressing, feeding, changing, and sometimes even sleeping, time is one of the most valuable commodities you have (or don't).
Product Features
The Cuisinart Baby Food Maker and Bottle Warmer can chop, steam, and puree almost any kind of fruit, vegetable, and more. The dishes in the included recipe book are diverse and appetizing; including Mango and papaya Cinnamon Oats, Veggie Lentil Medley, and even Baby Chicken Soup (for budding carnivores).
The included bowl is large enough to make four cups of baby food at a time, and perhaps best of all – the entire process is done inside the bowl. No need to clean multiple dishes.
Another nice feature of the Cuisinart Baby Food Maker is the compact design, which keeps it from taking up too much space on the counter or in a cupboard. The lid even has a convenient spot for storing the bottle ring when it is not in use. Furthermore, the white exterior goes well with all types of kitchen décor.
Another helpful feature of the food maker is the large-capacity, four-cup, work bowl, and a patent-pending Blade Lock System to hold the blade in place while pouring. This feature is especially useful when portioning food into smaller containers to freeze or refrigerate for later.
Additionally, there is a built-in bottle warmer that will heat your baby's bottle to an ideal temperature, which takes the guesswork out of heating a bottle.
Also included in the box are a recipe book, spatula, bottle adapter ring, and integrated measuring cup to assist you in preparing food or bottles for your baby.
What we Like
We like that the Cuisinart Baby Food Maker has the capability to steam, chop, and puree food for your baby within the same container. The product makes it easy to create healthy, homemade meals for your baby without a lot of pots and pans to clean afterward.
While you are chopping foods for your dinner, it is simple to add the chopped fruit or vegetables into the baby food maker, so your child can eat similar foods.
Overall, the Cuisinart BFM-1000 Baby Food Maker and Bottle Warmer is ideal for someone who appreciates having only one container to clean after making baby food. The ability to steam, chop and puree food all in one, reliable machine is great for busy parents.
Pros
Steams, chops, and purees
Compact design
Only one container to clean
Makes enough food for multiple meals
Cons
Not intuitive to use the first time – make sure you read the manual
Bowl could become cloudy with extended use