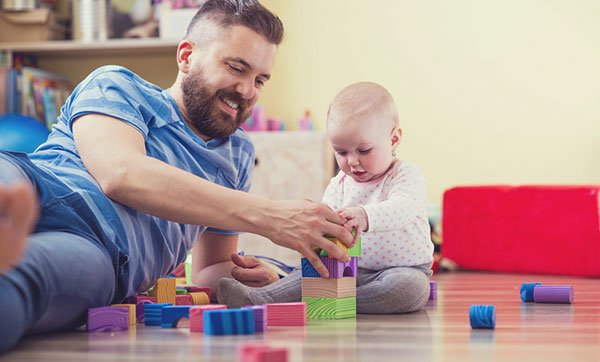 8 Toys for Babies Under a Year Old
Despite a huge variety in the market, it seems like it isn't always easy to find toys for babies between 6 and 12 months. As babies transition from being completely immobile, and then within a few months are suddenly very, very mobile, it seems that they are also in a transition phase between toys that are great for newborns, and ones that expect baby to sit at, crawl with, or stand next to.
Luckily, there are some great toys that can last through this transition period and beyond. Not only that, they can help baby's development through this phase by encouraging important motor, cognitive, and language skills.
In making this list, we only chose toys that have passed 4 tests:
The toy must help develop a number of different fine motor, gross motor, cognitive, or language skills.
The toy must be relevant for at least 3-6 months. Toys are expensive, and babies' attention span is fleeting. We only recommend toys that can stand the test of time, and keep baby engaged and interested for months.
The toy needs to be safe for baby to use.
The toy must have had the stamp of approval of real parents who lived with it in their day-to-day lives.
One of the most diverse toys on this list, the Oball is a favorite of ours. Its webbed design make it easy for even the littlest of hands to grasp, and the fact that it's a ball (you can't patent simplicity) encourages kids to start crawling as they try and catch up.
Once baby is old enough to sit up and play, rolling the ball back and forth with an adult is a great way to develop an understanding of the back-and-forth of communication.
Amazon Auto Links: No products found.
A good baby-safe mirror can provide a lot stimulus, and development opportunities for baby.
It encourages head control during tummy time, helps develop self awareness, social and emotional skills. And as your baby transitions to sitting, and then standing, a good standing mirror on an easel (like the Sassy Floor Mirror) forces baby to bend their wrist back (called "extension") which is critical for handwriting skills later on.
Amazon Auto Links: No products found.
If my daughter's first words end up being Sophie la Girafe, I won't be surprised.
Sophie has become the go to toy for so many parents, and with good reason. Sophie's design is perfect for various chewing activities for teething babies, with her legs being perfect for baby's molars, and her back for the front of the mouth. And for an added stimuli for the baby, sophie squeaks when you squeeze her.
Sophie is one of the more expensive teething toys, but don't let that scare you. She will be your baby's best friend (and yours) when they are teething.
Tip: Look for the Sophie the Giraffe Gift Set which comes with an additional teether for an exceptional value.
Simple, good old fashioned, stacking blocks are still surprisingly relevant. Better yet, playtime can evolve as your child develops.
Starting with grabbing and pulling, babies then move on to reaching for far off blocks. At this stage you can start stacking them on top of each other, let baby knock them over, and repeat… and repeat. One day, you will find out that your baby has learned to stack them up all by themselves.
Blocks are great for fine and gross motor skills, midline play, tummy time, grasping and releasing, understanding cause and effect, hand-eye coordination, and more.

Amazon Auto Links: No products found.
Continuing our tour of the classics, we find another one you may remember from your own childhood – the ring stacker. You will be surprised how much fun, and for how long, babies can enjoy this toy.
Their shape encourages baby to hold them with both hands, helping develop their midline play skills. They are perfectly shaped for putting into the mouth. And baby can watch as you stack them, and start to understand the difference between each ring. Once baby is a bit older and sitting up, they can begin stacking themselves, further developing motor and cognitive skills.
Play tables are like souped up activity centers. Their detachable legs make them versatile for babies aged 6-36 months. Detach all the legs and let your baby play on the floor. Once baby is ready to start sitting and crawling, attach two legs so that the table sits at a 45 degree angle. Finally, once baby is starting to practice standing, attach the last two legs to encourage them to stand up for longer periods of time, as they play with the various activities of the play table.

Amazon Auto Links: No products found.
The ball drop is a fun way for baby to work on fine motor skills, understanding cause and effect, depth perception, hand eye coordination, transferring between hands and visual tracking.
Accurate enough to satisfy an expert, yet simple enough for baby, Baby Loves Aerospace Engineering! will teach little one about the basics of flight – from birds, through planes, and all the way to rockets – and ties it all in to baby's world.
It's never too early to instill a love of science.