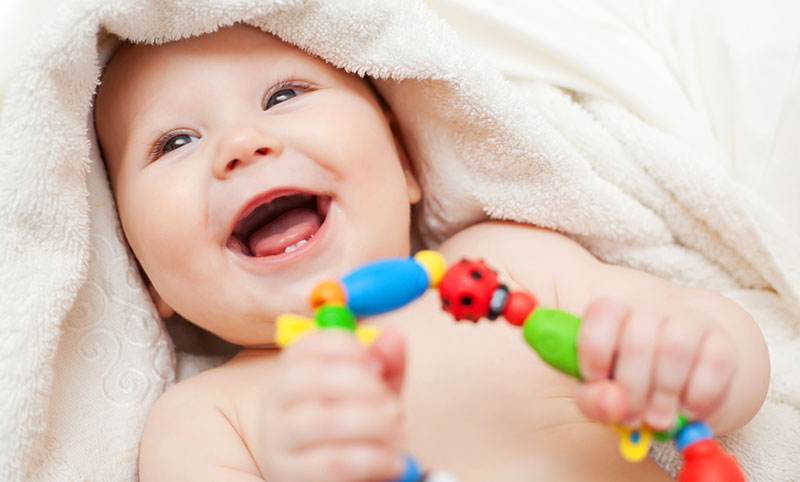 Understanding Toy Safety
How can you be sure a toy is safe for your child?
Keep in mind that the government doesn't test all toys. Most toys are packaged in ways that make it difficult for the purchaser to identify potential safety hazards in the store. And most consumers just do not know what to look out for when toy shopping.
The following tips for toys safety will help you shop wisely and safely for your child and teach you how to tell the difference between safe toys and dangerous toys.
Be vigilant shoppers. You should examine toys carefully for hidden dangers before making a purchase. Always buy toys from a vendor you know and trust.
If a toy looks unsafe, don't buy it. If you see small parts or a small ball or a balloon and don't see a choke hazard warning, call the U.S. Consumer Product Safety Commission (CPSC).
Keep small parts away from your toddlers, particularly if an older child has toys with small parts.
Toys with small parts, small balls and marbles are banned for sale if intended for children under 3. If intended for older children, these toys, and balloons, must include a choking hazard warning. The 1994 Child Safety Protection Act requires the following warning on toys intended for children 3-5 years old, containing small parts: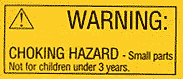 Select toys to suit the age, abilities, skills, and interest level of the intended child. Toys too advanced may pose safety hazards to younger children.
Do not purchase electric toys with heating elements for children under age eight.
Discard of plastic wrappings on toys immediately, which can cause suffocation, before they become deadly playthings.
Amazon Auto Links: No products found.
If you are unsure of the durability of a toy that may break into small parts, don't buy it! Look for sturdy construction, such as tightly secured eyes, noses, and other potential small parts.
Look for labels that give age recommendations and use that information as a guide.
For all children under age eight, avoid toys that have sharp edges and points.
Balloons were responsible for over 50 deaths since 1990. Always supervise children with balloons, inflated or not. Keep balloons away from children under 8. Buy mylar balloons instead of latex to avoid the choking hazard. And remember, if a balloon bursts while a child is blowing it up, it could be inhaled.
Children as old as 5 have choked to death on small balls and marbles as large as 1.75 inches. Small balls intended for children under 3 must be larger than 1.75 inches. Be careful of ball-like beads and other round objects.
Polyvinyl Chloride (PVC) and toys containing Phthalates have been linked with liver and kidney problems and are probable human carcinogens and have been banned by the European Union for use in teething toys intended for children under 3. Parents should not expose their children to toxic phthalate chemicals in any toy. Unfortunately, no U.S. law requires disclosure – and many toys made of PVC are labeled "non-toxic". Any soft plastic toy may pose a hazard unless marked as PVC or phthalate-free. Call the manufacturer to find out if the toy contains phthalates or PVC.
Amazon Auto Links: No products found.
The CPSC reports that there were more than 4,000 scooter-related injuries in August of 2000 alone and more than 9,400 emergency room treated injuries reported in the first nine months of 2000. Nearly 90 percent of the injuries are to children under 15 years old. To prevent injuries while using scooters and in-line skates always wear proper safety gear including a helmet that meets CPSC's standard, and knee and elbow pads, and wrist pads. Scooters and skates should be used on smooth, paved surfaces without any traffic. Avoid streets, or surfaces with water, sand, gravel or dirt. Do not ride the scooter or use the skates at night.
Strings, cords, and necklaces can strangle infants. Infant toys that include cords can present a strangulation hazard if the cord is put around an infant's neck. The American Society for Testing and Materials ("ASTM") voluntary standard for pull toys states that in "pull toys intended for children under 36 months, cords and elastics greater than 12 inches long shall not be provided with beads or other attachments that could tangle to form a loop". Parents should remove beads, knobs, or other attachments from their child's pull toy cord if the cord is over 12 inches long.
Make sure to only buy crib toys from reputable sources. Examine crib toys for possible strangulation hazards, look at the labeling of the toy and at the length of any cords or strings. Crib gyms (toys that are stretched across the crib) should always be removed from the crib when babies can get up on hands and knees (or at the latest 7 months old). Crib toys should not have cords or strings longer than 6 inches.
Projectile Toys can cut skin, blind or deafen a child who is struck in the eye or ear. Projectile toys now come in many more forms than simple, old fashioned rubber dart guns – including foot-bellows-powered rocket launchers, mechanical windup or string powered hand launchers for flying dolls or more powerful dart guns or slingshot or crossbow-like toys.
We urge parents and toy-givers to be wary of all hard-tipped or powerful projectile toys, which can self-inflict injury on the child playing with the toy or hurt others. Keep projectile toys away from children under 3. Supervise older children and teach older children about the dangers of aiming projectiles at the face or of using substitute projectiles.
Watch out for children's makeup kits that may contain toxics – such as toluene in nail polish. Toluene is flammable, can irritate the nose, throat eyes, can make consumers feel dizzy and repeated exposure can cause low blood cell counts and damage the liver and kidneys. Parents should read labels carefully and only purchase non-toxic nail makeup kits, craft kits and other products.
Infant bath seats are not recommended for use until 6 months of age, when most infants can sit securely. Once an infant can pull up (generally between 7 and 9 months of age) or attempt to stand while holding onto objects, infant bath seats should be discontinued, since the infant could climb from the seat. Families should not purchase bath seats found on retail shelves or at yard sales and should not use bath seats loaned by friends and family. Parents and caregivers should never leave a baby alone in the water and should always keep the child in arms' reach.
Great Toys for Babies
Amazon Auto Links: No products found.