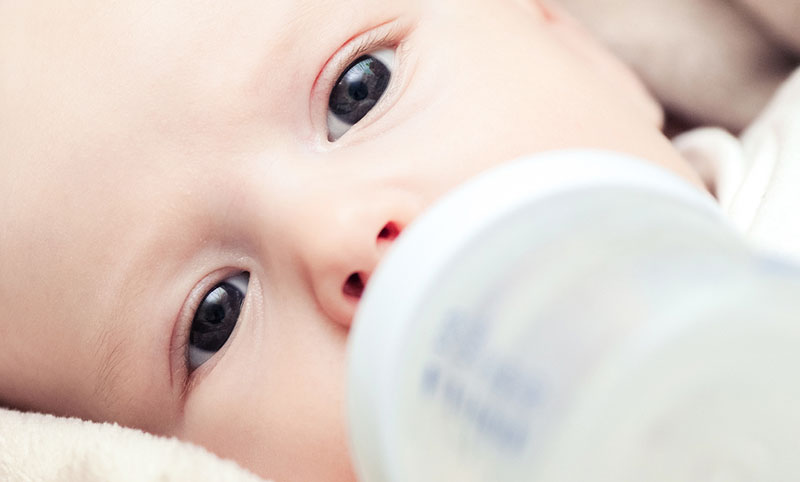 Bottle Feeding Guide
Everything You Need To Bottle-feed Your Baby
Feeding on demand applies as much to bottle-feeding as it does to breastfeeding. A newborn may have to be fed as often as every two hours. While a nursing mom is self-sufficient in a sense, bottle-feeding does involve getting a lot more accessories together. Our handy buying guide might help you decide what's just right for your baby.
Bottles
Nursing bottles come in three basic sizes: 4-ounce, 8-ounce, and 9-ounce. The 4-ounce bottles are typically used for newborns. They can also be used for storing expressed milk and when the baby gets older, as juice or water bottles. The 8-ounce and 9-ounce bottles are more versatile and long lasting.
There are enough types of bottles available today to make you wonder which one is right for your baby. However, they can be broken down into basically three categories:
Standard bottles – These have straight necks and bodies and can be used over and over again. All bottles are marked in ounces for easy and precise portion control of the formula. It's best to buy clear plastic or glass bottles so that you can observe the milk flow as baby drinks it.
Bottles with angled necks – designed to keep the nipple filled with liquid to reduce baby's air intake, bottles with angled necks also promote holding the baby's head in an upright position. Many doctors believe that feeding in this position helps prevent ear infection in babies.
Disposable systems – osable systems have a hard plastic shell called the nurser, which holds disposable plastic bags. For one-time use, the bags are presterilized to hold formula. The system comes with a special nipple and screw-on collar that holds the bag in place. The advantage of this system is that the disposable bags contract to prevent babies from sucking in air bubbles that cause them to spit up. Plus, it is ready to use and requires no cleaning. The nipples, however, need to be thoroughly cleaned, as with any bottle.
Nipples
When bottle-feeding your baby, make sure the nipple hole is of the right size. If your child appears to be sucking too hard, you probably need a fast/medium-flow nipple. An overly resistant nipple could collapse under your baby's strong sucking motion. On the other hand, if your baby seems to be sputtering and gulping often, your baby could need a slow-flow nipple. For a newborn, you know the nipple size is right when the milk comes out in a spray for a second or two when the bottle is inverted, and then trickles down to drops.
Types of Nipples
Traditional, bell-shaped nipples – These have a range of hole sizes from standard to small for newborns, to large for toddlers or for pulpy juice drinks. Some brands of nipples have just one hole and others have two or even three holes to ensure an easy flow of the formula. It is best to use the nipple and collar from the same manufacturer to ensure a tight fit and to avoid messy leaks.
Orthodontic nipples – Orthodontic nipples have an irregular shape and are designed to resemble a mother's nipple in the baby's mouth after repeated sucking. The nipples are elongated and have an indent in the center to evoke the same tonguing action of breastfeeding babies. It is believed that this helps in reducing the tongue thrusting and bite problems caused by standard nipples.
Latex nipples – Elongated to promote breastfeeding-like suckling action, latex nipples cause the milk to be delivered at the back of the baby's tongue instead of the mouth. However, latex nipples should be checked after two to three months for deterioration, cracks, or clogging.
Silicone nipples – These are made of a clear, heat-resistant material that can withstand being washed in a dishwasher. Since silicone is a less porous material than latex, it isn't as prone to bacteria. Typically, silicone nipples last three to four times longer than latex. However, all nipples must be checked every two to three months for deterioration.
Our favorite bottle nipples are:

Amazon Auto Links: No products found.
Formula
Babies need plenty of nutrients growing up, and next to mother's milk, formula is the best source. In fact, formula alone can meet a baby's nutritional needs for up to six months, after which doctors recommend introducing solids, in the form of baby food, to infants. Many start as early as four months, after which the baby's diet includes a well-balanced mix of both. It's best to check with your pediatrician, as every baby has a different schedule.
There are two basic types of formula: cow's milk and soy. The soy formula is designed for babies with a family history of allergies. Do not give ordinary cow's milk to infants because it does not have the nutrients babies need. Plus, their digestive system is not yet capable of effectively breaking down and utilizing its nutritional components.
Formula comes in three forms: liquid concentrate, powder, and ready-to-feed. It is important that you follow the instructions to prepare the formula, using the same measuring spoon provided by the manufacturer. Diluting the powder or liquid concentrate form too much or too little is not good for your child. Also be sure to follow storing instructions. Usually, once the concentrate or ready-to-feed cans/bottles have been opened, you need to refrigerate and use them within the next 24 to 48 hours, as specified by the manufacturer. The ready-to-feed does not require any water. Formula should be at room temperature for a feeding.
Amazon Auto Links: No products found.
Bottle-Feeding Accessories
There are many accessories available to help you bottle-feed. Whether it's warming, cleaning, sterilizing, or transporting, there is a bottle-feeding accessory for you.
Bottle brushes – A must if you are using a standard or angled baby bottle. Bottles often prove to be a cleaning challenge without them.
Day or night coolers/warmers – These help keep bottles cool for up to two hours or warm them up in just minutes. They're a great help when you need to feed the baby in the middle of the night. We highly recommend The First Years Quick Serve Bottle Warmer.
Bottle warmers for cars – Perfect for moms and babies on the go. Just plug right into the car lighter socket and your baby's formula is heated in minutes.
A hot/cold insulated bag – Perfect for carrying formula or snacks during extended outings with your baby.
Sterilizers – Essential to keep baby's nipples and bottles bacteria free. Don't forget to sterilize them before their first use. There are several types of sterilizers to choose from: stove-top bottle sterilizers have rings and racks to hold bottles and nipples in place, and self-standing electric and free-standing bottle sterilizers have automatic cut-off mechanisms, which prevent damage to bottles if water evaporates. We are big fans of the Philips AVENT 3-in-1 Electric Steam Sterilizer.
Dishwasher racks and baskets – Racks and baskets help keep the nipples, collars, and pacifiers from being tossed around in the dishwasher.
Bottle organizers – Good for helping you store baby's bottles, nipples, collars, hoods, and pacifiers in a clean and organized way.
Feeding pillows – Feeding pillows, such as the beloved Boppy, can help you get baby up to the proper angle and give your weary arms a little rest.
For a great, affordable start, we recommend going with a set like the Philips Avent Infant Starter Set.
Some of our favorite accessories:

Amazon Auto Links: No products found.
Safety Tips
Never try to warm formula in the microwave, because it may be unevenly heated and parts could scald baby.
Do not let baby fall asleep with the bottle, as bedtime bottles may lead to teeth decay from formula accumulation in the mouth.
Do not prop the bottle when feeding baby, as it may cause choking. Always hold baby in a semi-upright position and angle the bottle accordingly.
Do not pour overheated liquid into a plastic liner, as it can burst.
Feed baby formula or breast milk only at room temperature.